Our range
NeXTimber CLT & GLT range
Roof panels
Floor panels
Wall panels
Lintels & other framing
Beams
Columns
NeXTimber Domestic GLT range
Download Domestic GLT brochure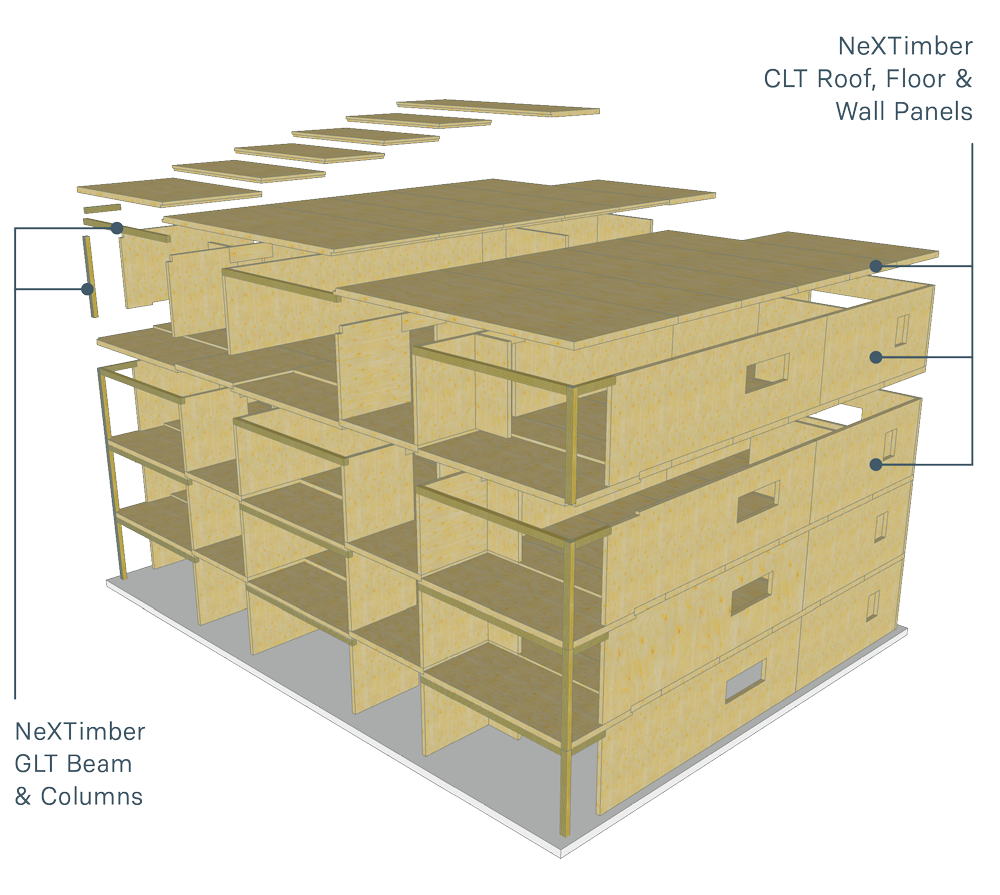 What is CLT and GLT?
What is CLT and GLT?
CLT
NeXTimber Cross Laminated Timber (CLT) is made from machine-graded, kiln-dried radiata pine, which is finger jointed, dressed and arranged to form a solid timber panel.
Alternating layers are laid perpendicular to each other, with adhesive applied along the faces and edges of each piece of timber before being cured under pressure to form one solid rectangular billet up to 16m in length, 3.5m wide and 360mm thick.
Individual building elements are then digitally machined from the billet using Computer Numerically Controlled (CNC) technology.
The cross direction layup of the panels, combined with the digital fabrication, offer a strong, rigid, dimensionally stable and highly accurate building product that offers versatility for designers to specify as roof, floor and wall structures.
GLT
NeXTimber Glue Laminated Timber (GLT) is an engineered wood product made from finger jointing and layers of machine-graded, kiln-dried and dressed radiata pine, laminated together with adhesive and cured under pressure to form one singular element that can be used as a high-performing structural member.
Unlike CLT, the timber's grain runs in one direction, making it well suited for use as beams, columns and portal frame structures.
For further information on our CLT or GLT range refer to the NeXTimber Brochure and Technical Guide
"*" indicates required fields